The feet carry more weight than any other part of the body. With all that work, it's no wonder they often get tired and sore. If your job requires you to stand all day, you're heavily into sports and exercise, or you love to wear high heels, your feet will be under even more strain. A soothing Foot Massage at Tension Release's Melbourne clinic may be just what you need to release and rejuvenate your tired feet.
Everyone Can Benefit from a Foot Massage!
After a long day on your feet, it's natural to take off your shoes and begin rubbing the soles. Without thinking about it, you're trying to ease your aching feet.
Your feet work hard for you all day without complaining. Don't they deserve a little TLC?
A Foot Massage is incredibly relaxing and feels great. It also eliminates the aches and pains and general foot discomfort that can develop after spending too long on your feet.
And it's perfect for athletes and sportspeople, because it speeds up healing of existing foot injuries, and tones the feet to help prevent future injuries.
At Tension Release, our fully qualified massage therapists offer Foot Massage as a stand-alone treatment or in conjunction with a Remedial, Sports or other massage. Our clients testify to the relaxing, revitalizing effects of massaging the foot!
Book an appointment Today!
To understand how relaxing a Foot Massage can be, you have to experience it.
Whether you'd like a short massage after wearing high heels at a special event, or you're preparing to run a marathon and need to soothe your aching calves and feet, please call Tension Release on (03) 9863 7013 to make an appointment.
Or you can book a massage online by filling in the form on the left.
Why Is Foot Massage Beneficial?
An obvious reason is that it feels great. This is because each foot has more than 7,800 nerve endings. Studies have demonstrated that massaging the feet can significantly decrease stress levels. Reducing stress helps the entire body, both mentally and physically.
Massage on any part of the body improves blood circulation. The blood is vital to every cell - it delivers nutrients and carries toxins and poisons away. Massaging the foot increases blood flow, rejuvenating the tissues and muscles of the foot and helping it do its job.
Other Advantages of Foot Massage:
Relaxes the muscles, which may reduce pain in the lower legs as well as the feet
Improves circulation in the legs
Can soothe the stress of menopause, and therefore reduce hormonal symptoms such as hot flashes
Can help to lower blood pressure
Not sure if a Foot Massage is what you need?
Call us on (03) 9863 7011 for a consultation at our Melbourne clinic.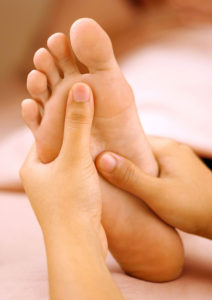 Foot Massage Melbourne